Bhutan
●MoU between Bhutan' s first private college, RTC (Royal Thimphu College) and SEISA University. Conduct students exchange programs.
●Invite high school students to Japanese high schools (mainly to SEISA) through Ashi Kesang-Miyazawa SEISA Scholarship.
●Provide supplies to set up medical and educational environments at the mountain districts.
●Support the Medical College Project ran by the government by helping out on their planning, fundraising and such (ODA from Japan).
●MoU of "Bhutan-Japan Sports Collaboration 2016-2020" with Bhutan Olympic Committee. It is intended to support the preparation and participation of Bhutanese athletes and coaches for the Tokyo 2020 Olympic and Paralympic Games. Furthermore, the partnership will continue beyond the Olympics with a focus on the development o Bhutanese athletes and coaches in various sporting disciplines.
●In April 2017, Bhutan signed an agreement for 2020 Pre-Games Training Camps with Kanagawa Prefecture, Odawara City, Hakone Town, Oiso Town and SEISA Group / FGC. Continuous support toward Bhutanese sports, such as sending coaches to Bhutan and inviting athletes to Japan.
●Scholarship program to accept Bhutanese student-athletes in SEISA Schools' Track & Field and Archery Course. Currently, there are 5 high school and university students in Track and Field, Archery and Judo.
●Support the establishment of Bhutan Paralympic Committee and focus on development of para-athlete. In 2019, two of shot-put para-athletes have achieved the participation standard record of 2020 Paralympic Games.
●In 2019, Mr. Yasuo Miyazawa was appointed as Honorary Advisor to HRH JIgyel Ugyen Wangchuck, President of BOC.
●In August 2019, Bhutanese judo athletes participated for the first time in three categories of in World Judo Championships, which was held in Tokyo
●In November 2019, a Bhutanese archer, who has been continuously supported by SEISA / FGC, qualified for Tokyo 2020 Olympic Games based on her athletic perfoamance, for the first time in Bhutanese history.
●In December 2019, Bhutan sent its biggest national team to the 13th South Asian Games held in Nepal. 145 Bhutanese athletes competed in 14 events. Archery team, both as individual and as team, won silver and bronze medals. For Judo, Tandin (73kg class) and Kinley (66kg class), who are the scholarship students to SEISA Dohto University, won bronze medals.
●In August 2020, "the First Bhutan (BAF) & Japan (SEISA) Friendship Virtual Archery Tournament"Was held to seek a new style of tournament under the situation with Covid-19.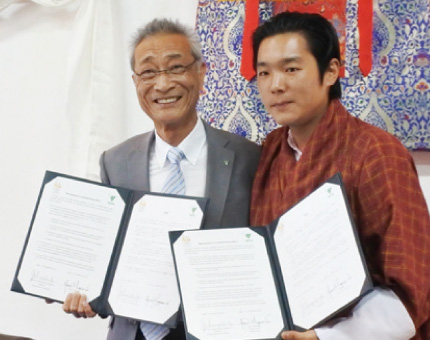 At MoU signing ceremony with HRH Prince Jigyel Ugyen Wang chuck, Representative of His Majesty and president of BOC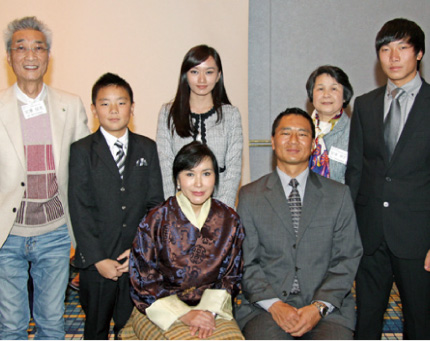 With HRH Ashi Kesang Wangmo Wangchuck's family (with whom we have many years of personal friendship)